Opening Access to Science and Technology Education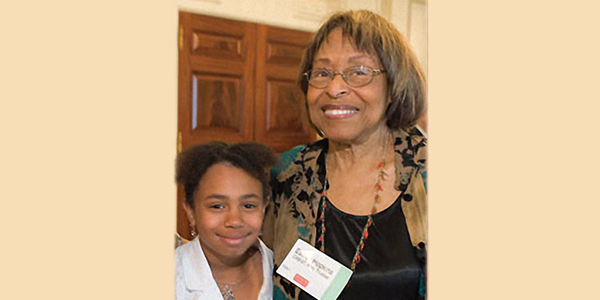 Esther A. H. Hopkins (CAS'47) understands the importance of a great education-something instilled in her by her parents. Now she is helping Boston University students, especially those who face financial challenges, have the same opportunities she did.
"My folks were very poor," says Hopkins, "but they struggled so that their children could get a chance to go to school." After earning her bachelor's degree at BU and going on to earn graduate degrees elsewhere, she was drawn back to Boston University.
"It's important that everyone who gets a way of living and a way of being from an institution give some of that back, for people in another generation," says Hopkins, who served on the University's Board of Trustees for 22 years and was a member of the School of Medicine Dean's Advisory Board.
When Hopkins's parents passed away, they left their house-one they had worked for many years to pay off- to Hopkins and her brother. Hopkins saw that her share gave her the opportunity to make a financial investment in BU. Inspired by her parents, she initially worked with BU's Planned Giving staff to honor their memory by establishing a charitable gift annuity that would fund awards to underrepresented students in science and engineering.
Her fund will still do that-but now it will start helping students right away. With a charitable gift annuity, a donor transfers cash or property to BU and receives fixed payments for life. What's left of the gift after the donor's lifetime is then used to benefit the BU cause of the donor's choosing. Hopkins had been receiving such payments, but she recently decided to relinquish them and convert her gift to an endowed Century Challenge scholarship fund.
This change enables the George and Esther Harrison Scholarship Fund, named in memory of her parents, to start providing financial aid to undergraduates immediately. Hopkins has specified a preference for supporting students who identify within a spectrum of race, ethnicity, or affirmed gender that is underrepresented in the fields of science or engineering.
Thanks to the Century Challenge, BU will match the spendable income from her fund for 100 years. Beyond that, the fund will continue to support students-and honor the Harrisons-for the life of the University, essentially forever. And, as someone who has established a planned gift, Hopkins herself will continue to enjoy the benefits of membership in the Claflin Society. She'll also know that she's making a real difference in students' lives.
"My share of the money from my folks' house will all go to BU," she says. "I don't have millions, but I did have that."