A Transcontinental Alumnus Values His BU Family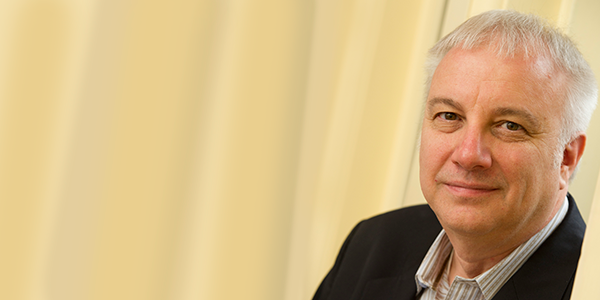 Al Petras (CAS'78) is the second-newest season-ticket holder in his group at Agganis Arena. He's had those tickets since 1980.
"People have had tickets 40, 50-plus years in our section. The BU Friends of Hockey is truly more of a family situation," says Petras. "There are lifetime friends that you make among the regular season ticketholders."
His involvement as a BU alumnus started when he moved back to Boston from New Jersey just two years after graduating with his degree in English Language & Literature. A group of friends thought the best way to keep in touch would be to get season tickets to BU hockey. So they did, and they continue to attend games together to this day.
Petras's investment in the University began with his yearly ticket purchase and soon expanded to regular contributions to the BU Athletics program-including coordination of the players' family welcome dinner-and then to participation in the Terrier Legacy Circle: a group of dedicated donors who have chosen to support BU Athletics with a bequest or other planned gift. In fact, Petras was the very first member of the Terrier Legacy Circle.
"BU had a place in my life and helped me in my career, opened a lot of doors," says Petras, "I felt it was important to make a legacy gift."
It didn't take long after graduation for Petras to realize the value of a Boston University degree. At his very first job, for Prudential Insurance Company of America, he was put in the "fast-track pool" in part because he had the brand name of BU behind him.
The fast track eventually led Petras to a position at Bank of America, where he has worked overseas for the past 10 years. "When you're being introduced to a group," he says, whether in the states or abroad, "Boston University is one of the key attributes that they pay attention to. It's a feather in the cap."
Another key benefit of having the BU experience under your belt when working for a large, multi-faceted, global corporation? The exposure to many different cultures, ways of life, and points of view that is a staple of the BU student experience. Petras's experience was no exception. During his time as an undergraduate on Commonwealth Avenue, he had roommates from other countries and friends from far-off continents-interactions that he says prepared him for his Bank of America posts in Latin America and China.
BU's tradition of being a truly global university has only grown stronger since Petras's time there. "What really surprises me the most is that 40 percent of the undergraduate students at Boston University study abroad," he says. "Today's economy is much more global-it's a smaller world-and having the ability to study abroad for a semester is probably one of the best preparations that they can have for their actual work life."
Working part-time in the states and part-time in China affords Petras a unique opportunity to be a transcontinental alumnus: He keeps an eye out for BU alumni events in Beijing while he's in the region, assists with BU's Center for the Study of Asia, and always makes time to attend BU hockey games when he's home. Wherever he finds himself, he knows that his BU family is never very far.
© 2018
Crescendo Interactive, Inc.
PRIVACY STATEMENT
This site is informational and educational in nature. It is not offering professional tax, legal, or accounting advice.
For specific advice about the effect of any planning concept on your tax or financial situation or with your estate, please consult a qualified professional advisor.